English
Writing
At Woodland Primary School we teach writing through the 'Talk for Writing' model devised by Pie Corbett. It is a fun, creative yet rigorous approach to developing writing. The model is used from EYFS to Year 6. The writing process follows three stages, Imitation, Innovation, and Independent application. Additionally, we use 'The Thinking Side' model devised by Jane Considine. This strategy allows teachers to expose children to new vocabulary, sentence structures and grammatical patterns before they write independently.
Imitation Stage
During the imitation process, teachers 'hook' children into new units with CCTV of dinosaurs attacking the school, letters from stray pirate parrots and crime scenes. We move onto sharing model texts which are story mapped/text mapped using drawings. Children learn these orally internalising pattern and language. The model texts children are exposed to are age appropriate and boast rich vocabulary and grammatical features. This process of orally learning the texts allows dual processing where children hear and speak the text given; actions are also used. Parents are encouraged to hear their child 'read out' story maps once they are sent via School Spider.
Innovation Stage
Once the children have heard, spoken, read and explored a model text, internalising it into their long-term working memory, they are ready for the second phase which is known as innovation. Younger children are helped to create their own new version of the known text. Young children start by making changes to their maps (using post-it notes) and then retell their new version.
Older children 'box up' the plot/structure of the original text, the teacher version and plan their independent version. Using the model text, teachers support children in creating a 'Thinking Side'. Using this, teachers model-write each section as a 'shared write', vocalising their thought process as a writer. This model is left on display for children to refer to during their independent write, should they need to.
Independent Stage
The end goal of the teaching of any writing should be to develop children into successful independent writers. At the end of each 'unit', once all of the teaching, modelling and internalisation of knowledge has taken place, there is an opportunity for children to produce a final, independent piece of work. During the writing process, children's work is marked and they are given direction by staff to improve writing further. Children fix errors as they go. On the spot verbal feedback supports children in making changes to their work instantly to avoid repetitive errors through a whole piece of writing.
Reading

At Woodland we believe that reading is the key to success in education and strive to provide our children with a life long love of reading. Woodland is committed to ensuring that every child is a competent reader at the end of key stage one and a confident reader at the end of key stage two. We embrace a love of reading by ensuring that reading runs throughout the curriculum and the children are read to every day and read every day. Our children will be taught the skills for reading through the systematic phonics programme Read Write Inc.
Read Write Inc. takes place daily in Early Years and Key Stage 1. In KS2, children who require support with early reading also have RWI sessions daily. Additionally, we use the programme to deliver interventions to children across school. Children develop their early skills in Nursery and continue throughout school until they have completed the programme. RWI includes short, sharp tasks ensuring children are involved and engaged throughout the whole session. It is designed to create fluent, independent readers, confident speakers, independent spellers and willing writers.
At Reception and KS1 the RWI home reading scheme books follow an order that will closely match every child's specific phonological development. We aim to enrich the partnership between school and home to ensure that every child reaches their reading potential. As well as our reading scheme books, children in KS1 are given the opportunity to take home a colourful story book each week to share and enjoy with a family member. This broadens their reading choices and gives them the freedom to develop their tastes as a reader and understand that reading has a purpose and place in their lives outside of school.
Children then move on to Woodland Big Book challenge at KS2. We endeavour to ensure that every child's reading follows a systematic, organised and targeted approach in order to secure excellent progress. The schemes encompass a wide variety of texts, including fiction, non-fiction, poetry, play scripts, graphic novels and classics to ensure coverage of a range of text types.
Destination Reader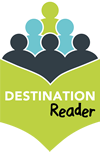 Once our children become readers, their reading journey continues with Destination Reader and they are taught how to understand what they are reading. These daily sessions incorporate whole class modelling prior to the children applying their skills through partner work and independent reading. Understanding is deepened by the use of a series of reading strategies and language stems. Our children read with greater understanding, independence and, above all, enjoy reading more. These structured reading sessions allow the children the opportunity to explore both reading for pleasure and purpose.
We Love Books!
How we promote a love for reading:
Every class enjoys a story time everyday.
Children visit either the KS1 or KS2 library weekly.
We visit the local 'BookCycle' where children are encouraged to 'swap books' they can share with their peers.
We embrace a love of 'book talk' throughout school where children and adults are encouraged to discuss their opinions about what they have read during the school day and at home.
We organise author and poet visits throughout the year.
Our 'in the spotlight' books in the main corridor house newer titles and authors from all walks of life.
We celebrate days that allow us to appreciate literature, such as World Book Day and National Poetry Day.
Every class visits the local library termly.
Reading at Home
As a school we promote reading for our children and encourage that this is extended to their life at home. We provide all children with a Woodland book bag, reading record and reading book, and encourage parents and carers to take time every day to listen to their child read, and engage in 'book talk'.
It is crucial that all children have their book bags in school every day and read at home regularly with an adult which should be recorded in their reading record. Children's reading records will be checked daily and books changed accordingly.
Spelling
From Year 2 to Year 6, children learn to spell using Jane Considine's 'The Spelling Book'. Jane Considine's approach to teaching spelling focuses on children becoming 'Spelling Detectives' and to be interested in language; the history and the meaning of even the smallest unit of sounds. The approach is underpinned by three key principles:
Build a positive spelling culture, where children will read with 'switched on' brains
Finding and identifying phonemes and syllables within words
Seeking patterns in sounds, letters and shapes
Children learn spelling strategies through 'The Spelling Rainbow'. Teachers teach children specific strategies through lenses. Spelling is explicitly taught. Children are encouraged to conduct investigations and test hypotheses focussed on spelling conventions. Furthermore, children are given opportunities to work in different ways, using a variety of resources to prove/disprove the hypotheses within a range of words. Spell It Out sessions explore phonemes and syllables in words and patterns within words/groups of words. Over a two-week period, children look for patterns and focussed phonemes across the curriculum. Fast Tasks revisit prior learning from previous year groups and the child's current year. Tasks take a variety of forms with children working individually; in pairs and as a class. Learning from spelling sessions are consolidated and practised across all subjects, particularly in Reading and Writing.
Files to Download
Other pages